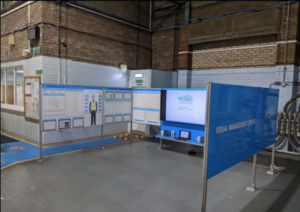 One of our customers contacted us regarding a 5S management centre. So that they could improve upon various factors on the site, including safety and efficiency.
This was because management required an effective means to communicate ideas In order to streamline processes and keep up to date with current events.
Such as:
Health, Safety and Environment
Quality Control
Unexpected Costs
Productivity
Staff
Problem Solving & Improvement
By working together with the supplier we are able to offer fully bespoke solutions, including the content on the board to the sizes and arrangement as well as the incorporation of any displays. This allowed us to maximise the information on display as well as keeping to the designated space.
Since then the customer has stated that the implementation of the management centre has improved their communication and allowed them to keep better track of their site.